Expert guide to choosing interior door handles and knobs
27 March 2018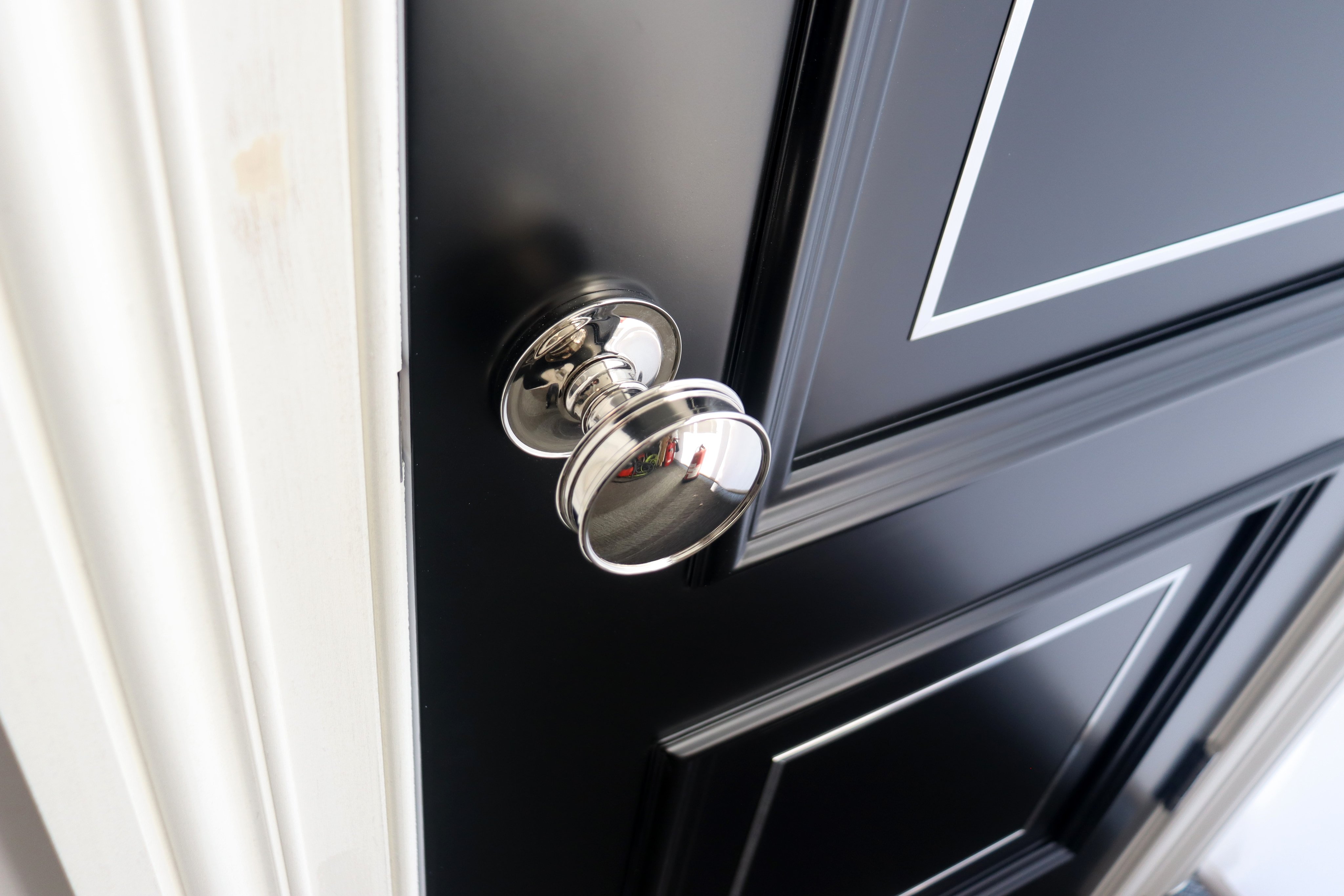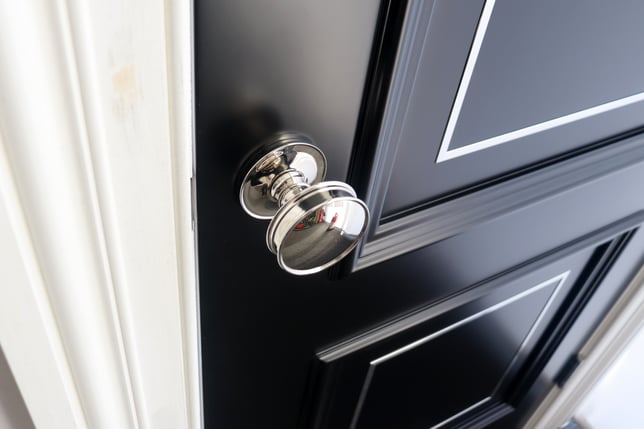 Internal door handles and knobs if selected carefully can be the jewel that every room needs. Here we look at the various styles and designs you can choose from and how to complete any interior design with the right door handles and knobs.
Internal doors are an essential and functional feature within any property, acting as both separators and access points between different living spaces. A modern four-bedroom home may typically boast between 11 and 18 internal doors, but this figure can reach even higher, particularly in older and more traditional properties.
No door is complete without suitable door furniture and the choice of handles or door knobs you make will be a subtle, yet important detail. They can act like jewelry for a room, helping tie together different design elements and aiding the natural flow through the property, from area to area.
While they may be a physically small item, the style you choose needs to sit well within the overall design scheme. Plus, the hardware needs to be fit for purpose, long lasting and suitable for carrying out an important function day-to-day.
There are lots of options when it comes to size, type and design, and you'll want to find the style that is going to complement your property the most. But where do you start?
To help you, we've pulled together this handy guide to some of the most popular styles and what they are most suited for, along with advice on function, finish and everything else you need to consider.
What is in this blog?
Skip to section:
Choosing the right door furniture
Popular handle and door knob designs
What to consider when choosing door handles and knobs
Choosing the right door furniture
Unless you want each room to be bespoke and plan to use a variety of unique statement handles throughout, you are likely to be aiming for a level of uniformity across the property.
It can therefore be helpful to start by viewing your project as a whole and thinking where it may be most appropriate to use the same style of door and handle. Also, plan where you may want something a little different, but still in a matching style and whether there are any areas where a bespoke, statement handle may be needed.
Lever handles or knobs?
One of the biggest decisions you have to make is whether you'll go with door handles or door knobs. There are plain and simple styles available for each, along with more flamboyant and decorative options.
Door knobs have been around the longest and are a popular choice for period properties. However, with all the innovations that have been made in material, style and design, they can also create an attractive feature within both modern and contemporary residences.
Door lever handles will naturally provide better grip, aiding those with different levels of strength and dexterity. As with door knobs, there are a multitude of different designs and finishes available, with options suitable for every style of property. They will, however, generally appear more modern than door knobs.
The final decision will ultimately come down to personal preference, and will usually be driven by aesthetics and who the end user is likely to be.
Popular handle and door knob designs
Here are examples of some of the most popular styles around today:
| | |
| --- | --- |
| | Lever Handle on Back Plate – this classic door furniture style looks great in traditional design schemes. |
| | Lever Handle on Roses – simple and very versatile, this style of handle is suitable for most properties. The 'roses' in which the handle connects, can be round or square, with designs ranging from the modern and minimalistic, to the classical. |
| | Traditional Mortice Door knobs – typically used within more traditional styles of property, a common example being the 'beehive' design. |
| | Modern Mortice Door knobs – increasingly being used within more contemporary settings, often utilizing glass or a smooth polished finish. |
| | Rim knobs – this type of knob must be used with a rim lock and is most suitable for traditional and archaic settings. |
What to consider when choosing door handles and knobs
Certain designs of handles and knobs will naturally lend themselves better to different styles of interior design and architecture.
In a period home, you may opt for a large ornate brass back plate and curved brass handle. In contrast, an urban loft conversion may be better suited to minimalist, chrome or black handles, or bespoke statement handles.
Door style and finish
The style and finish of the door itself is an important factor to consider when choosing door handles and knobs.
Panelled
Panelled doors are often found in heritage or listed buildings, where doors are required to match pre-existing doors, or planning guidelines need to be met. The panels can be flat or raised, with six or four panelled doors being a popular choice for traditional properties.
Boarded
Boarded doors can look great in both traditional and contemporary properties. For example, 'cottage style' is perfect for cottages and barn conversions, but is also increasingly found in new builds and modern properties too.
Veneered
Veneered doors are those which have had an outer layer applied to give the appearance of solid wood. Example finishes include ash, beech, cherry, ebony, maple, oak and walnut. Different types of wood veneer will naturally work better with different handle and door knob finishes, depending on their individual colouring and appearance.
Painted
Painted finishes are great for creating a contemporary look and can be a cost-effective alternative to veneers. The options range from subtle greys and creams, right through to statement blues and greens.
Handle shape
Shape is another key element to consider. For example:
Oval

Door handles will be more tubular with no defined edge and accompanied by curved edge back plates. Door knobs will be oval, and often smooth and polished.

View this handle

Round

This style of door handle will generally be smooth and circular, while door knobs will be perfectly round in shape. They will be placed in front of a round backplate.

View this handle

Angular

Door handles may have square or rectangular backplates, with the handle itself also being rectangular with crisp edges.

Classic

Traditional Victorian style may see a large rectangular backplate accompanying a decorative curved handle. This will usually be in brass.

View this handle

Contemporary

Modern and contemporary style handles are often sleek, simple and minimalist. They will often be in chrome or a statement colour, like bronze or black, with little or no backplate.

View this handle
Door furniture for other rooms
Another issue to consider is how you will manage rooms that are heavily populated with doors and cupboards throughout, such as the kitchen. Another example being the bedroom, where you may have various pieces of furniture, including wardrobes and drawer units, or perhaps built-in wardrobes.
If you're using door knobs on your main doors, then you may decide to use a common style throughout and across all door fittings - or at least to choose something complementary. Alternatively, you may prefer to create a contrast, using handles that make a statement and stand out. It is increasingly popular to use standard doors of wardrobes with the same lever or knob that is used throughout the property.
Just ensure you avoid having a complete mismatch, as this will impact on how effective your overall design scheme is.
Functionality
There are some important practical and functional considerations you also need to make, to ensure you choose the most appropriate handles or knobs for the expected end user.
For example:
How big and heavy are the doors? What hinges will be required to bear the weight?
How often are the doors likely to be used? Are they easy for all users?
Will everyone within the property be able to use the handle/knob? Are they suitable for the elderly and the young?
Will everyone be able to get their hands around the door knobs without banging their knuckles on the door stops?
Latest trends
Aged/Antique brass brass knobs and handles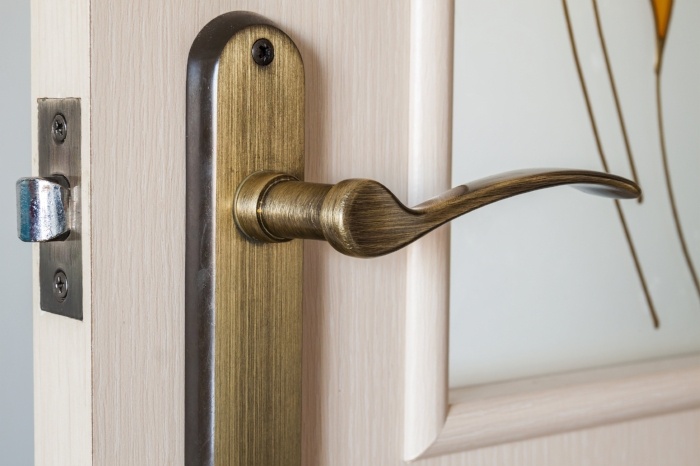 Matt Black door knobs and handles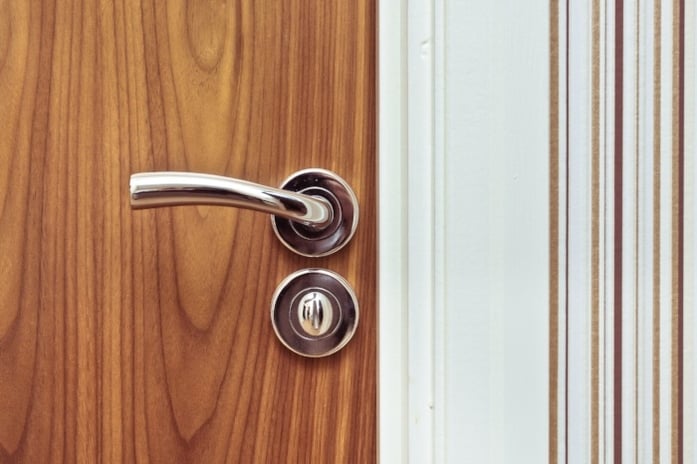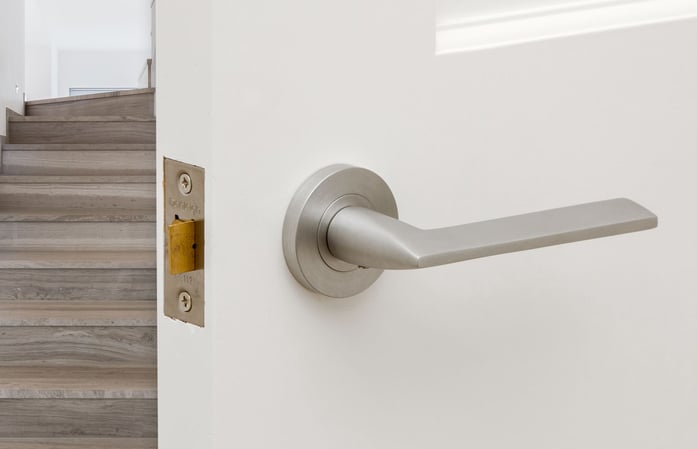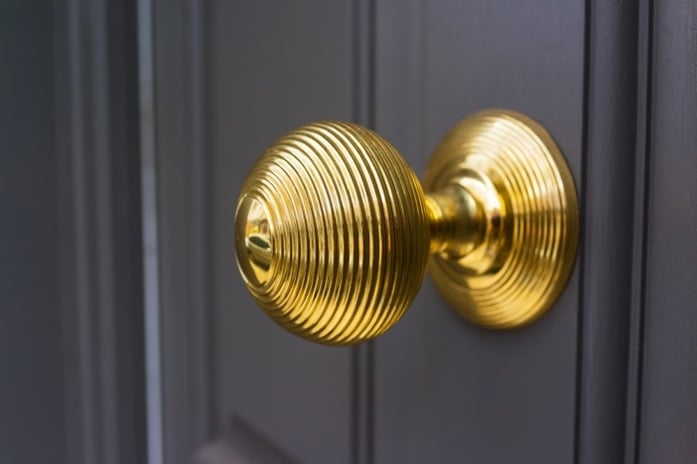 Door knobs with colourful patina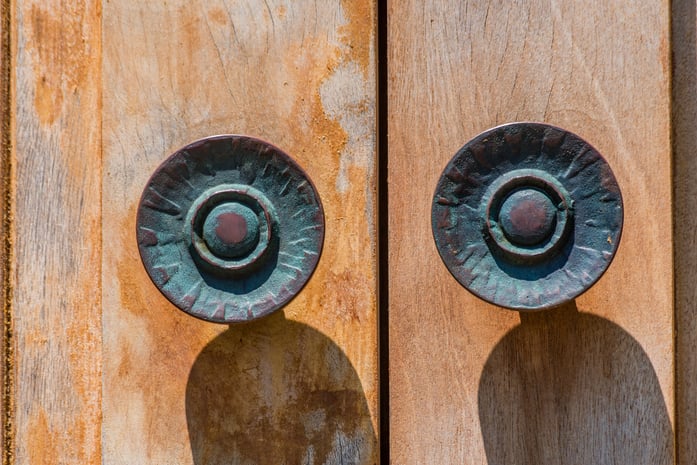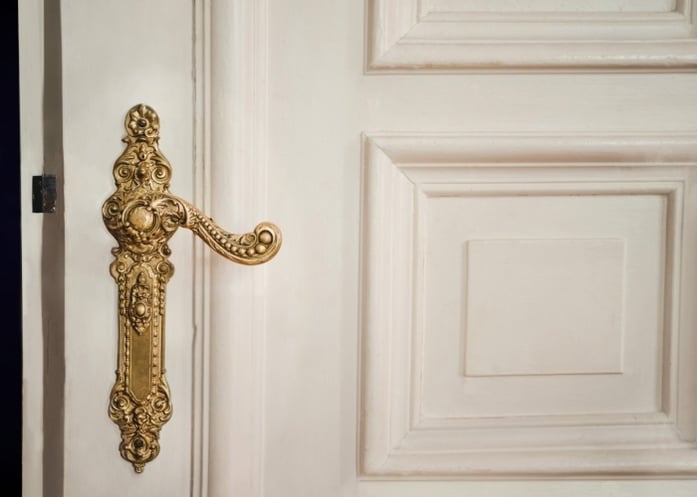 Get the right look
For more information about choosing the right style of handles and doors for your property, what to think about when it comes to locks and latches, and advice on aftercare for your ironmongery, see:
Plus, for more ideas on creating a particular look and feel within your property, download our Inspiration Lookbook.