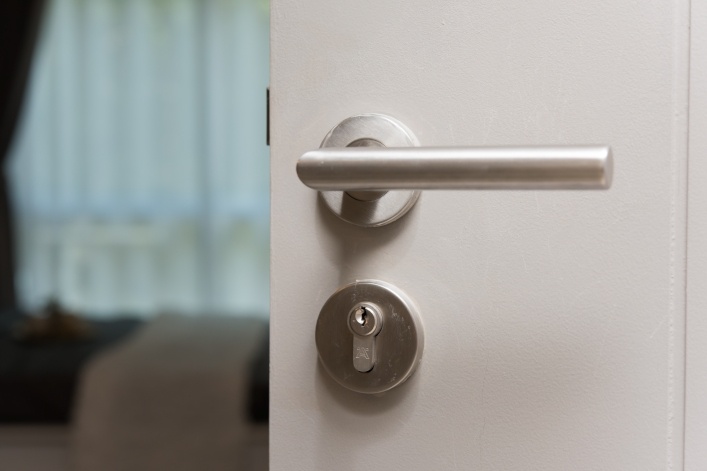 Doors are an integral feature in any residential building and from handles to hinges, locks to latches, the function each doorway is required to perform will govern the choice of ironmongery and door furniture that is needed.
Depending on their location, some doors may simply need to close and be held shut. Others will be required to lock securely. This includes external-facing doors, where security will be of paramount importance, but also internal doors, such as bathrooms and studies. In other scenarios, easy ingress and egress are more important.
For each door, there may be key building regulations that need to be complied with and also other issues to take into account, including the use of disability-friendly designs.
So, what are the choices when it comes to types of door locks and latches, and where are they best suited? Here, we're going to demystify some of the key jargon, before exploring the different options that are available.
Door lock and latch terminology explained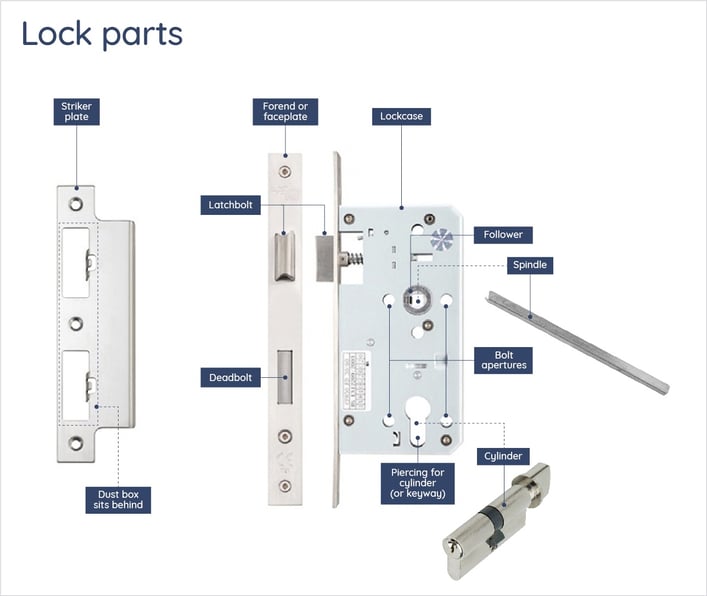 Lock - A device used to secure a door, usually operated by a key or turn mechanism.
Mortice

- If a latch or lock is described alongside the word 'mortice' it means it is has been installed within the thickness of the door leaf - 'mortised in'.
Rim

- If a latch or lock is described alongside the word 'rim' it means that it is installed on the face of the interior leaf of the door. For example, a Cylinder Rim Latch (more commonly known as a 'Yale' lock).
Bolt apertures -

These apertures can be put bolts through to secure the lock in place.

Cylinder mechanism

- This refers to the pin tumbler mechanism within a lock that enables a door to be locked, and can be keyed differently.

Deadbolt

- The deadbolt is the piece of metal that forms the bolt and is used to deadlock the door.
Dustbox

-

A dustbox sits behind the striking plate, and hides the timer door lining.
Follower - The square hole turning mechanism through which the spindle of the operating knob or lever handle passes, in order to operate the lock or latch
Forend (faceplate)

-

The part of a lock or latch that is fixed to the edge of the door

Horizontal - A term used in reference to mortice latches or locks. It is the overall width of the case, which is usually greater than 100mm.
Latch (latchbolt)

-

The simple mechanism for closing a door without the addition of a lockable bolt. It will usually be operated by a pair of knobs, or lever handles.

Spindle

- This is the square section that passes through the follower hole and is fitted to the knob or lever handle to operate the springbolt.
Striking Box

- The box into which the latch and/or lock bolt engages.
Striking Plate

- The plate into which the latch bolt and/or the lock bolt of a mortice latch or lock engages. It will usually be fixed to the door frame or jamb, with at least one bolt hole into which the latch and/or bolt shoots
Upright

- A term used in mortice latches/locks to explain that the overall width of the case is no more than 100mm. If it is a lock mechanism, the control of the latch bolt is placed above or below the control of the lock bolt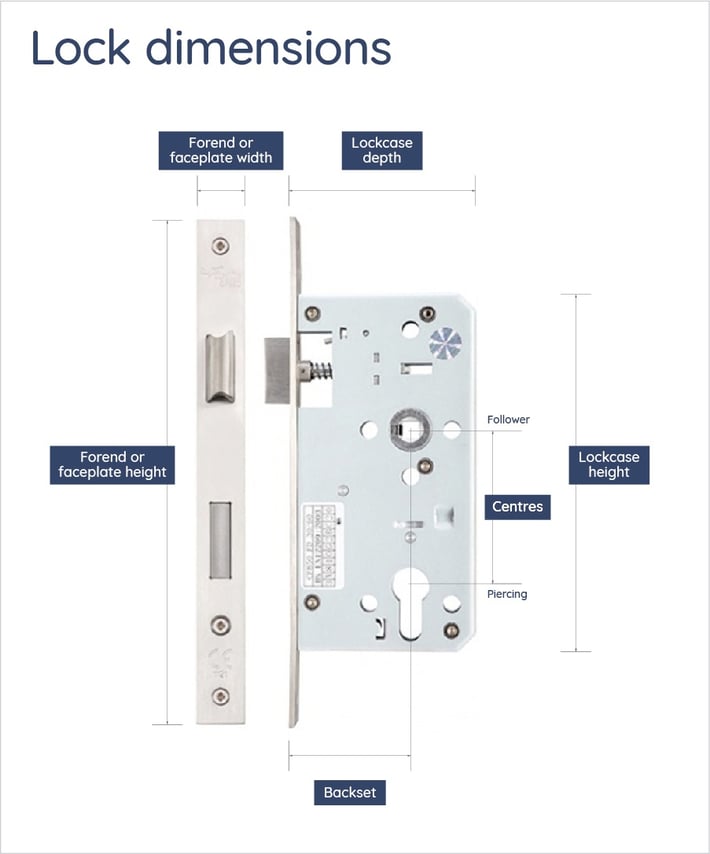 Backset

- This is the distance from the outside face of the outer forend to the centre of the keyhole or follower hole (or both).

Centres -

This is the distance between the centre of the follower and the centre of the head of the key hole.

Latch/Lock case

- The part of a latch or lock that contains the working mechanism.
Latch/Lock depth - The distance from the forend of the latch/lock to the back of the lock case. The stated size of a lock/latch refers to this dimension.
Types of latches & locks suitable for residential buildings
Latch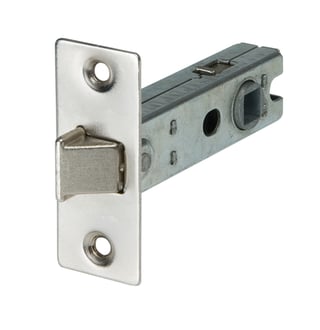 What is a latch?
A latch is a mechanism that can be used to hold a door shut. With a latch, a door can be shut without the need to turn a handle, but the handle must be used to open it.
What are the different types of latches?
Two of the most well-known types of latches are:
Mortice latch - A latch that is traditionally fitted inside the door stile (the vertical components on the outside edge of a door). These types of latch work with most types and styles of door furniture.
Rim latch - A surface mounted latch that sits on the back of the door and is typically found in much older properties. Specific rim door furniture will need to be specified for this type of latch.
Where are they commonly used?
Latches can be used on any door that does not need to be locked. For example, a dining room, living room, kitchen or larder.
Bathroom lock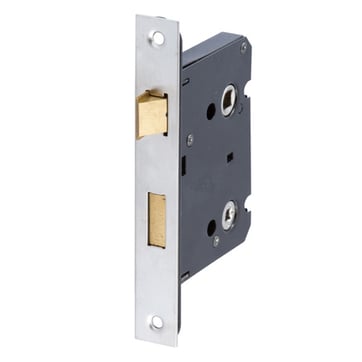 What are the different types of bathroom locks?
Bathrooms are one of the few rooms within a residential property that are always required to lock when in use. There are several different options for the opening, closing and locking of a bathroom door. They include:
Bathroom lock (where the latch and lock are two items within one casing)
A mortice latch and a mortice deadlock (where the two items are placed separately in the door stile)
A mortice latch and a surface mounted barrel or slide bolt
Are there specific regulations for bathroom locks?
The same standards apply to bathroom locks, as to those used for doors on other rooms – the building hardware classification of mechanically operated locks, latches and locking plates (BS EN 122209)
Deadlock
What is a deadlock?
A deadlock is simply a lock within a casing that does not have a latch. The lock can either be opened by a key or euro/oval cylinder.
Where might you use one?
Deadlocks are best applied in scenarios where a door needs to be kept locked all the time. For example, a broom cupboard or outbuilding.
Sashlock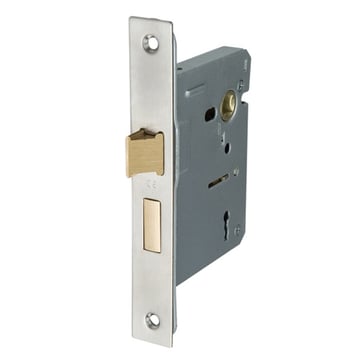 What is a sashlock?
A sashlock combines a latch and a lock within one casing. The latch element holds the door in place, while the deadlock element can be used to look the door when required, using either a key or euro/oval cylinder.
Where might you use one?
The best application for a sashlock is when a door needs to remain unlocked when in use and to be held in place, but then needs to lock securely when not in use. For example, a home office or garage door.
Nightlatch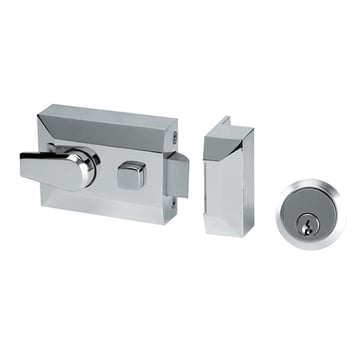 What is a nightlatch?
A nightlatch combines a latch and lock within a single mechanism. These types of devices are commonly known as 'Yale' locks.
The latch will automatically engage when the door is pushed/pulled shut, locking the door immediately. To open the door, from outside a key is required and from inside the knob simply needs to be turned. Key cylinders are usually used, but euro cylinders are becoming increasingly popular.
Rollerbolt nightlatch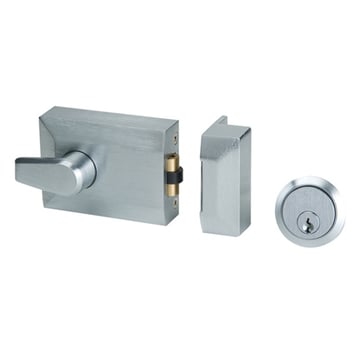 What is a rollerbolt nightlatch?
In contrast, a rollerbolt nightlatch has a spring-loaded rollerball catch, which is designed to simply hold the door in its keep without locking. The catch is released by pulling or pushing the door and no key is required. The occupant can, however, securely lock the door by either depressing the turn when inside or if outside lock with the key
Where might you use one?
They are used on the internal front doors of apartments. This enables an occupant in the event of a fire in communal areas to safety retreat to their apartment.
Disability friendly latches and locks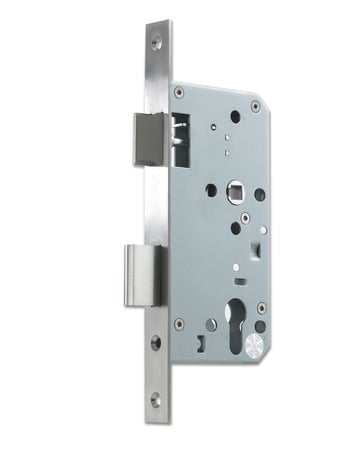 What are DIN latches and locks?
DIN is the German institute for standardization and DIN mortice latches and locks have been rolled out as the European standard. The disability-friendly design has a greater distance between the handle and key/thumbturn which makes them easier to use. DIN products are used in commercial and public buildings so are designed to a robust standard.
Where might you use one?
Within commercial and public buildings, and occasionally in residential properties, where they are suitable for all door applications where a latch or lock is required.
Other issues to consider when choosing locks and latches:
For some types of locks and latches and their different applications, there will be additional considerations you need to make:
Fire rating – An important aspect of ensuring fire doors meet the required standard is the fitting of certified door furniture or hardware. Check that hardware meets BS EN 1634-1 30/60mins
Disability friendly – The requirements and standards guiding disability-friendly locks and latches are commonly known as Part M (BS 8300)
Warranties – Check what warranty is offered. As an example, many Denleigh locks and latches come with a 10-year mechanical guarantee
Dust boxes – These can be fitted behind the strike plate to give a neater finish and hide the timber of a door lining
Regulations

–

BS EN 12209:2003 is the European standard covering mechanically operated locks and latches. The standard classifies elements of locks and latches such as durability, safety and fire suitability. There is no requirement for locks and latches to be tested to this standard.

Rollerbolt nightlatches - A requirement for rollerbolt nightlatches will be dictated by Part B of the building regulations.
For more advice and information
Denleigh is accredited to international quality standard ISO9001 and our staff are Guild of Architectural Ironmongers (GAI) trained.
For more advice or guidance, please contact our experienced team on 01722 337060 or email us using mail@denleigh.co.uk.