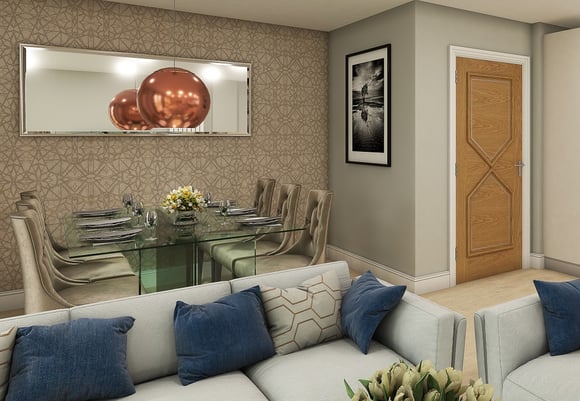 Bespoke internal doors can make a statement within any property, forming a central part of a design scheme and seamlessly pulling together key design features and colours.
There are many reasons a developer or designer may opt for a bespoke door, from necessity and a space that requires a non-standard door size, through to a wish to use an oversized door that will provide a grander and more distinct look and feel.
With almost four decades of experience supporting contractors, designers and developers to realise their design ambitions, at Denleigh, bespoke doors and ironmongery is something we know a lot about.
Our expert door consultants work closely with customers throughout the design and construction process, from recommending the perfect option for each individual project's requirements, through to preparing schedules and overseeing deadlines and delivery.
Taking this one step further, we're delighted to announce the launch of the 'MODern door 432' - designed and created in-house at Denleigh. Door consultant Ruth, a highly experienced member of the team, being its creator.
MODern doors for an eye-catching look
Forming part of our stylish Denpremo range, the MODern MOD432 door brings real character to a home and with its use of bolection mould and inlay is ideal for any property where an impressive and eye-catching look is desired.
The door features a striking V-shape bolection mould and inlay - the moulding standing proud from the door. It can be supplied in a range of timber veneers and stains, including popular and stylish black oak stain. The inlays provide a stunning second dimension in matt black, bronze, satin brass or chrome.
The grain is available either cross grain or vertical grain, as shown below.
The doors come in a range of sizes and thickness, with each door having a solid core construction, where required to meet fire rated standards, and solid timber lippings on all four edges.
Providing the ultimate in tailored joinery, MODern doors can also be fully tailored, to complement and enhance other key features or colour schemes within a property, for example, flooring, skirtings and architraves, or a staircase and its handrails, treads or rises.
Find out more about our modern doors here and traditional doors here. The distinctive V styled door can be view here.
What is the Denpremo range?
The Denpremo range from Denleigh provides tailored door and ironmongery styles and finishes, backed by exceptional function and reliability. The 'premo' in its name representing the range's premium quality. With Matt Bronze and Satin Brass among the most popular ironmongery finishes, the range boasts everything needed for a residential development, all in one place. Learn more about Denpremo or browse the doors and handles.
Talk to us about your next project
At Denleigh, we specialise in bespoke internal feature doors for the residential market. For almost four decades, we have been supporting contractors, designers and developers to realise their design ambitions through our quality products.
Thanks to our extensive carpentry and industry expertise, we can deliver tailored solutions for any project - from contemporary apartments and modern town houses, to traditional family residences and stately homes. As we can provide both doors and ironmongery, we can help ensure the whole process runs even more smoothly.
To find out more about how we can help bring your next project to life, please contact our experienced team on 01722 337060 or email mail@denleigh.co.uk