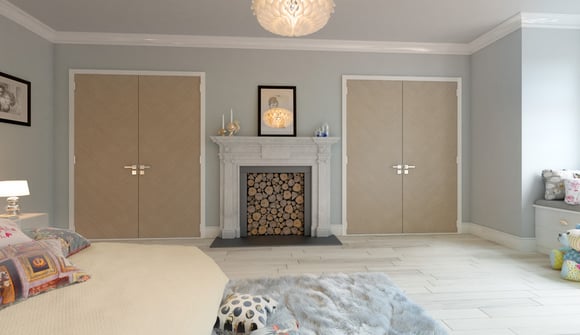 When choosing internal doors and ironmongery interior designers need to consider whether they want the doors to integrate seamlessly with other features, or if they want the doors themselves to be a focal point. Modern minimalist interiors designed to be chic, often use individual features such as walls, flooring or bespoke furniture to add an element of character, but creatively designed doors can equally provide the much needed wow factor.
The new MOD-450 door range, from our Denpremo MODern collection consists of flush internal doors pre-finished in a choice of reconstituted timber veneers, with the grain of the veneers angled to form a variety of delightful geometric shapes. Suitable for contemporary properties, these doors help provide additional character and imaginative design for fashionable interiors.
For convenience Denleigh have created five distinctive and popular designs for the MOD-450 range, but being fully bespoke, architects and interior designers have the creative freedom, working our experienced door specialists, to originate something totally unique for their clients. Our team will discuss any imaginative design idea and look to bring it to life.
Our five core models are shown below. Click on the model numbers to explore the designs and options in further detail.
Veneer options
MOD-450 doors are available in a selection of reconstituted veneers as shown below. Options include Grey Coto and Ashen; two of our most popular choices for modern interiors. Alternatively the warm hues found in finishes such as Teak, Limed Oak or Silk may better suit your property's design theme?
A smooth clear lacquer is applied in the factory to protect the door surface and this also allows the full effect of the grain pattern to shine through.
If you would like to see any of the door finishes for yourself before before making a decision, please send us a free samples request using our online form.
Fully tailored to your needs
Built with a solid core for strength and durability the MOD-450 range is available in a range of bespoke sizes up to 1200 x 2400mm and comes with solid timber lippings to all four edges ensuring a perfect fit for every entrance. FD30 and FD60 fire door options are available to mitigate risks where a higher level of fire protection is required, such as the door to a kitchen or apartment front door.
Denleigh can supply any Denpremo model as machined and assembled doorsets, with matching linings and ironmongery. This ensures a quality finish and greatly reduces carpentry work on-site, with the doors shipped ready to be hung. There is a wide selection of door handles and furniture in our Denpremo collection to match any chosen design, which can be scheduled with door deliveries to aid on-site efficiency.
Work with us on your next project
Denleigh's team of experienced consultants work with designers, architects, developers and contractors to tailor solutions for residential properties of distinction. To find out more about how we can help bring your next project to life, contact our experienced team on 01722 337060 or email doors@denleigh.co.uk