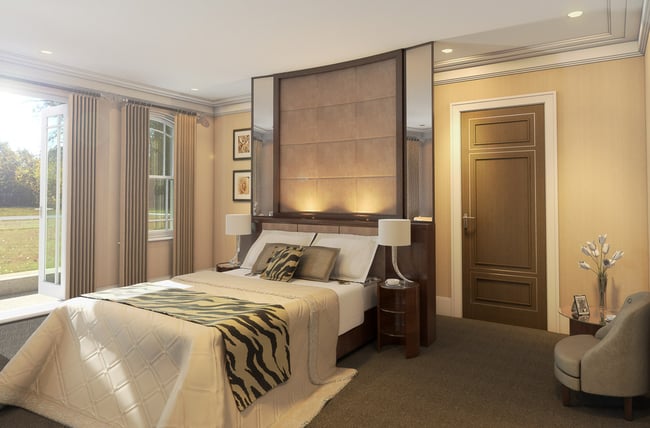 Interior designers often like to take the best features of classical room settings and add subtle touches to give their designs a modern edge.
Following the same principle, TRAD-650 is a new range of doors recently added to our Denpremo door collection that has a traditional design, but with panels which are framed with decorative beading and polished inlays to give the door a more contemporary, high-end look.
As with all doors in our bespoke Denpremo range, customized design can be taken to the next level to meet individual needs and specifications. This of course is a great benefit when you want your chosen door design to enhance and blend seamlessly with an individually designed interior.
For convenience the pre-finished TRAD-650 range is available in four standard panel configurations, with a choice of raised and field panels or flat panels; from the simplicity of the TRAD-659 single panel design to the sophisticated three panel TRAD-651. Being fully bespoke, however, the panel shapes and proportions can be tailored to meet any design need.
View our standard designs below and click the model number to explore more.
TRAD-659 TRAD-657 TRAD-655 TRAD-651
The scope for design freedom and individuality is further advanced through an extensive range of exquisite wooden veneers, stain, beading and inlay options. From a range of traditional veneers such as oak, walnut or chestnut with matching beading to more contemporary choices such as ebony, wenge or grey coto, offset with a collection of five metal inlays.
You can really let your imagination run wild with these versatile choices to create a design that's matches the individuality of your project. What configuration would you choose? Perhaps the simple understated class of the single panel TRAD-659 in chestnut with a bronze inlay? or potentially the three panel TRAD-655 in a sophisticated dark Ash stain with polished chrome inlays?
It is often beneficial to see the finishes yourself before making a decision and this is made easy through our Product Sample Service - simply send us a request and we will be pleased to send your chosen door finish samples and ironmongery.
Making a grand entrance
TRAD-650 models are available in a range of standard and bespoke sizes up to 1200x2400mm and come with solid timber lippings to all four edges ensuring the doors will be a perfect fit for any entry way. This model would certainly provide a grand and imposing entrance when supplied as an over-sized door.
For convenience Denleigh can also supply this model as machined and assembled doorsets, with matching linings and ironmongery. This ensures a quality finish and greatly reduces carpentry work on-site, with the doors shipped ready to be hung.
Denleigh offers an extensive range of door ironmongery in our Denpremo range to complete your design, available in a wide range of styles and with the same finish available across every component.
Work with us on your next project
Denleigh's team of experienced consultants work with designers, architects, developers and contractors to tailor solutions for residential properties of distinction. To find out more about how we can help bring your next project to life, contact our experienced team on 01722 337060 or email doors@denleigh.co.uk