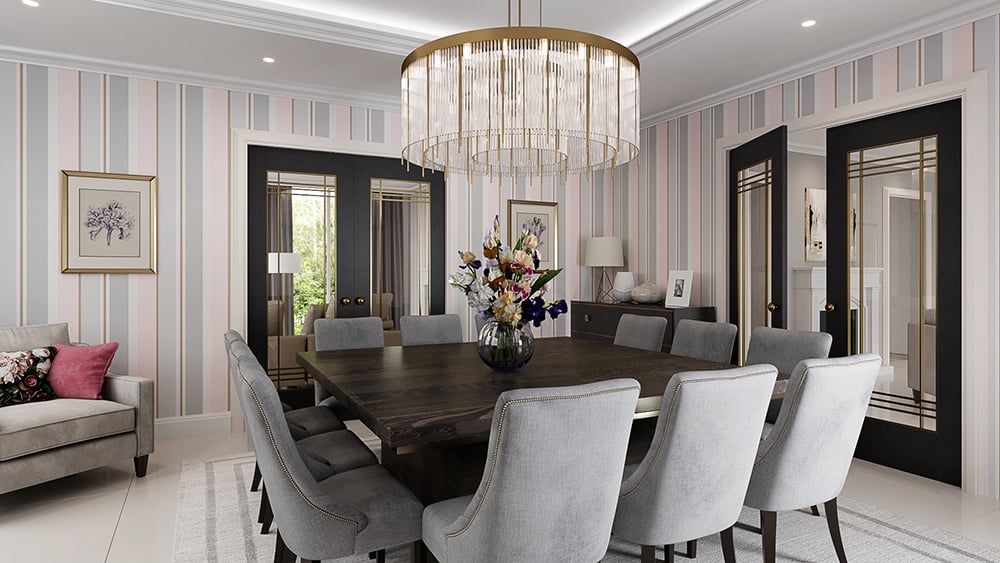 Interior designers are always on the lookout for stand-out features to add the wow factor to their properties and help create an unforgettable impression of style or luxury, particularly in high-end homes.
With this in mind, the stunning new range of Lattice doors launched by Denleigh will help designers make a statement through characterful glazed doors featuring lattice work that would grace the most opulent of settings. These doors would be ideal as feature doors, for example from an entrance hall to a large reception room or as a room divider between a lounge and a formal dining room.
The lattice work is arranged in a series of geometric shapes to suit different tastes and to help with inspiration the team at Denleigh have created a collection of 14 attractive designs to choose from. For those looking for nostalgic grandeur a number of these feature popular 1930's Art Deco style designs, which unsurprisingly work very well in contemporary settings.
Homage to Art Deco
We expect these lattice doors to be a very popular addition to our Denpremo range and have picked a handful of designs below to give you a feel for the different options available. Just imagine the impact as guests first enter your property! (click each model to view more or for the full range click here.)
Veneer, stain and finishing options
Our Lattice doors are available in a wide range of natural veneers and stains from our Denpremo collection such as Black-Stained Oak or Coffee-Stained Oak and they are particularly spectacular with a high gloss finish. We can supply other doors for your property in the same finish or you may wish to treat your lattice doors separately so they act as focal point and dramatic design feature leading to principal rooms.
The lattice grid is solid and prefinished in a metal effect such as polished chrome, brass or painted to a RAL colour of your choice so as to complement other furnishings or interior features – for example staircase railings. Besides the 14 standard designs we have created; we can also modify designs to suit your individual needs – simply call our team on 01722 337060 to discuss your needs .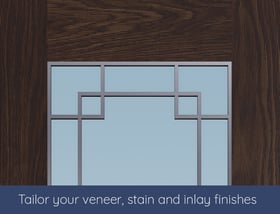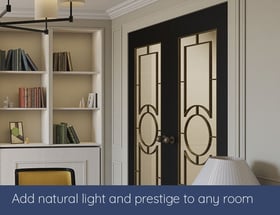 To ensure quality and ease of installation, our lattice doors are factory finished with clear flat toughened glass, which is strong and particularly effective in allowing natural light to penetrate and brighten interior spaces. The lattice work adds an air of sophistication and luxury to this effect to complement prestigious interiors.
Additional options
Lattice Doors are available in popular sizes up to 2400mm high with door thicknesses ranging from 35mm to 55mm. We can supply frames and architrave to suit the doors and as a dual supplier of doors and ironmongery we also offer a wide range of premium quality door handles, knobs and hardware in a choice of finishes to match your design and choice of finish. Finally, the doors are also available FD30 or FD60 fire rated.
Conclusion
With the widest range of bespoke lattice doors designs and finishes available anywhere on the market you'll be sure to add a feature that is both functional and uniquely stylish, adding style and prestige to your property.