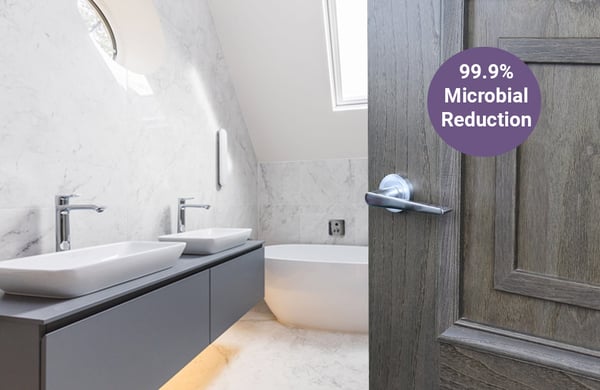 With hygiene being such a crucial requirement for all types of businesses and households these days, Denleigh is delighted to announce the launch of an anti-bacterial coating option for its doors which kills 99.9% of germs on contact, helping to improve infection control in numerous sensitive environments.
Infection Control
365 Days A Year
Doors and handles are one of the main features of a property that can significantly lead to the transmission of germs, with bacteria quickly being passed from one hand to another. The threat of infection exists in all types of building, however, sensitive environments such as care homes, surgeries, dental practices, hotels, offices, nurseries and many family homes have an especially high need for protection against cross contamination.
The anti-bacterial door coating from Denleigh is available as an option on any door from our Denpremo' door range and contains a sanitizer function featuring silver ions which attack germs and provide a continuous anti-bacterial action over the door surface 24 hours a day, 365 days / year. The coating is proven effective against 99.9% of bacteria including c.diff, salmonella, Legionella, E. Coli etc.
Completely safe and transparent
Applied in the factory, the coating is hard wearing and resistant to chemicals, requiring just a standard level of cleaning to optimize its anti-bacterial function. Being completely transparent the coating also has no adverse effect on the appearance of the door, so is perfect in any setting where both interior style and hygiene are important, such as in a hotel or retirement living environment.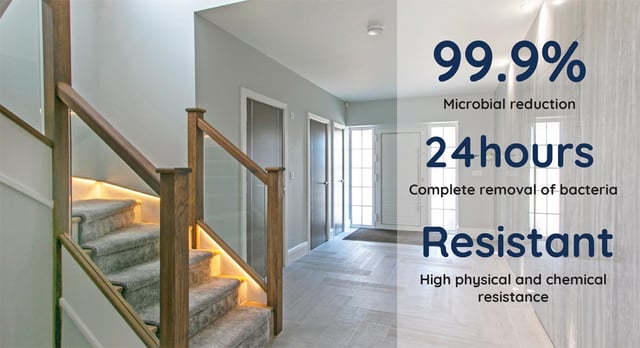 With the heightened risks of infection due to Covid19, all types of businesses and households are looking to improve the levels of hygiene in their premises. This new coating option from Denleigh has, therefore, come at just the right time.
For further information please download our Anti-bacterial Doors Brochure, or call our experienced sales advisors on 01722 337060.
Download a copy of our new brochure below.