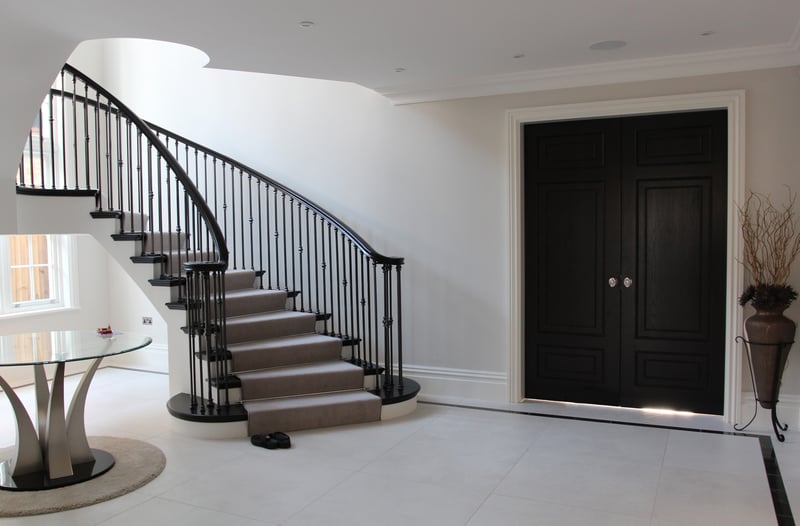 When it comes to high-end and luxury residences, the use of bespoke internal doors with an eye-catching styles and finishes can really add to the 'wow' factor.
As well as pulling a design theme together and helping to complete a 'look', their use can reinforce the overall quality of the build and its perceived value. It's therefore no surprise that they are a popular choice among developers, interior designers and homeowners alike.
For anyone wishing to create a unique living space, opting for high spec fixtures and fittings that are equally unique is a must. Any bespoke doors chosen must exude quality on both the inside and out, combining expert joinery with superior detailing.
So, what are the hottest trends in bespoke door design and finishes right now?
We asked our expert design team here at Denleigh, to share their insights. From the current design trends, to the top colour palettes and the rise of the 'hybrid'.
Click to jump to: Wood Stains - Veneers – Sheens – Inlays – Bespoke Finishes
1) Wood stains
One of the most popular methods for finishing a door is the use of a wood stain. Rather than hiding the timber's natural appearance, a key benefit of a stain is that its translucency allows the grain and character to shine through.
Because of this, staining is a method frequently used for timbers that are favoured for their natural beauty, such as oak. But in recent years, chestnut and walnut have also grown in popularity.
Another benefit of stains is that there is a broad spectrum of options to choose from, as well as the potential for a bespoke stain to be created where required. This means that internal doors can effortlessly be tied in with an overall design scheme, such as by being made to match flooring, or other distinct design features within the property.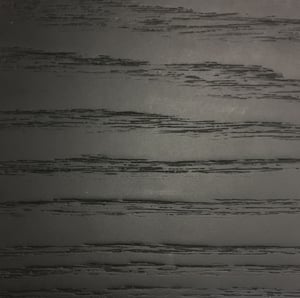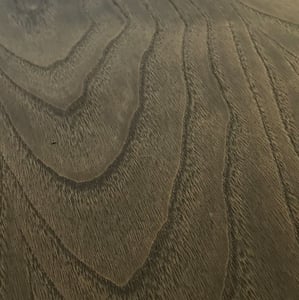 2) Door Veneers
The use of wood veneers for bespoke internal doors is another popular choice and can be an effective way to capture a high-end look and feel, but with the benefit of a lower price tag.
Rather than going for a solid wood door made from a single species, veneers are a thin layer of natural wood that is fitted onto the top of a door made from a less expensive material. Every veneer is unique, just like the tree it was taken from, and the flexibility they offer for design, means the opportunity to create a standout look is high.
Some of the most popular veneers around today include oak, ash, walnut and chestnut, which are all prized for their attractiveness. However, when used with a stain and sheens –
particularly if adding a hint of colour - a more modern or contemporary feel can effectively be achieved.
3) Sheens
Sheens are a form of lacquer (a liquid that dries to form a hard surface) that can be applied to the surface of the door. They can be used directly on sealed oak doors, or over stains and veneers, or even doors with a painted finish.
A sheen can dramatically change the appearance of a door and the look achieved will depend on the level of sheen that is added. With a matt finish (using near zero sheen), only a subtle effect will be visible, but the higher up you take the sheen level, the more mirror-like the finish becomes.
The benefit of a sheen is that will protect and enhance the timber, but it can also be used to create a completely different - and often very striking - new look. It's always wise to think about end usage and other practicalities, when deciding on the level of sheen to use. For example, the highest levels of sheen can provide quite a clinical look and will be more susceptible to scratching.
The typical sheen levels are:
* Matt (near zero sheen)
* Standard sheen – around 5% 15 to 20%
* High sheen – 20% 30 to 40%
* High gloss – 40% 60 to 100%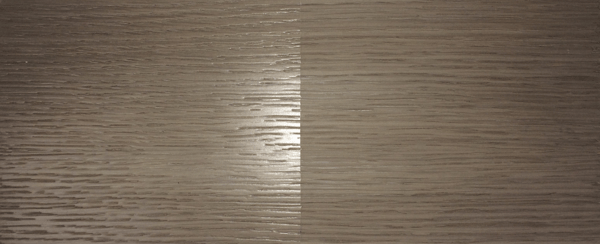 Image shows the difference between Matt and Standard sheen
4) Inlays
Door designs created using inlays are an increasingly popular choice. An inlay is when a secondary material, commonly a metal or a different species of timber, is laid within or onto a door. The result can be a very contemporary or unique design.
Metal inlay
A metal inlay will sit on a door's surface and is an easy way to customise a door, or to add an element that ties to a broader design scheme. Popular choices of metal here include antique brass, rose gold, polished bronze and matt black.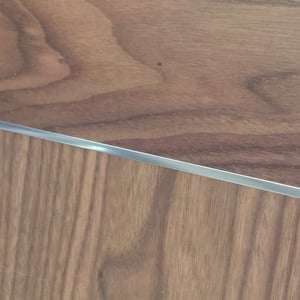 Timber inlay
Timber inlays follow the same concept except they are flush with the door, rather than sitting on top of it, creating a panel-like appearance. Many different timbers can be used to create either a very defined contrast, or a subtle visual effect. One popular choice is the combination of brown walnut with an oak inlay.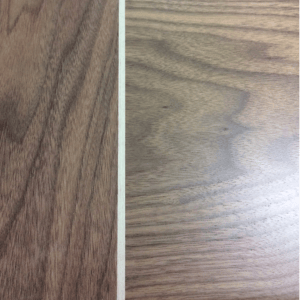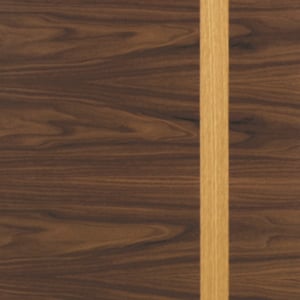 Bespoke finishes
Bespoke internal doors can be designed to complement and enhance other key features within a property, and to match an overall colour scheme. For example, flooring, or a staircase and its handrails, treads or rises.
For example, for this luxury residence in Sandbanks, Dorset, the internal doors were purpose made with distinctive modern machined detail and finished in a striking Panther Black Oil. A matching finish and material were then used for the staircase treads and risers.
While another recent development based on the Hampshire coastline, opted for a panelled door with chestnut stain.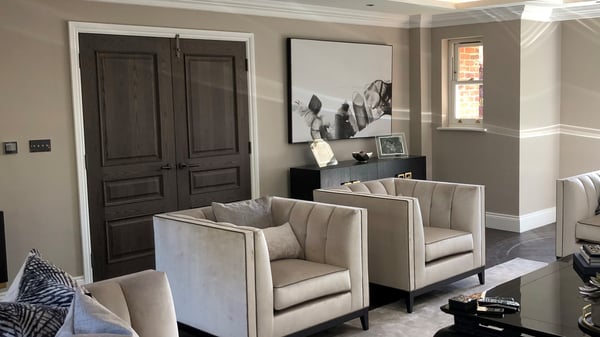 And finally, the ones to watch….
1) Dark colours – A dark colour palette continues to prove very popular. Typically black or dark brown stains, used on chestnut, oak or ash.
2) Grey tones – Another colour finding favour is grey. Different looks can be achieved depending on the how the colour is applied. For example, whether it is the use of a grey paint finish and sheen, or a veneer that is stained with a shade of grey.
3) Hybrid door styles – This cutting-edge design trend sees the traditional mixed with the contemporary. A traditional style door may be finished with v grooves, instead of customary moulding. This creates a traditional look, but with a contemporary twist.
Need bespoke doors for your next project?
At Denleigh, we specialise in architectural ironmongery and bespoke internal feature doors for the residential market. For almost four decades, we have been supporting contractors, designers and developers to realise their design ambitions through our quality products.
Thanks to our extensive carpentry and industry expertise, we can deliver tailored solutions for any project - from contemporary apartments and modern town houses, to traditional family residences and stately homes. As we can provide both doors and ironmongery, we can help ensure the whole process runs even more smoothly.
To find out how we can help bring your next project to life, please contact our experienced team on 01722 337060 or email mail@denleigh.co.uk