Denleigh are enthusiastic supporters of the Fire Door Safety Week 2017.
About three million fire doors are purchased and installed in the UK each year, including a substantial number from Denleigh which are generally installed in single or multiple occupancy dwellings. Fire doors are generally the first line of defence in the event of a fire, so the correct installation and maintenance is fundamental for the safety and well-being of the residents.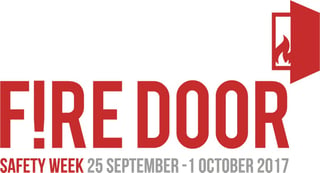 Steps to achieving a suitable Fire Door installation
There are five steps to be addressed, and indeed checked ongoing, for a satisfactory fire door installation; which are:
Certification – Check the door has a fire door certified label, and use CE marked hinges, latch/lock and door closer
Apertures – Altering the glazing apertures or installing air transfer grilles will invalidate the certification
Seals & gaps – Ensure that the gaps between the fire door and door frame are between 3mm and 4mm, and that intumescent strips are fitted on the top and sides of the door
Door closer – The closer must close the door completely and engage the latch satisfactorily
Operation - Ensure the door opens and closes correctly and that all components are correctly fitted and operational (hinges, latch etc)
Fire Door installation
Installing a fire door isn't like hanging an ordinary door. You MUST get it right otherwise property and lives will be at risk. Check the manufacturer's instructions to make sure you have the correct components to fit to the door. DON'T take risks. This informative video will help.
So what are the most common mistakes with Fire Doors?
Over 61% had fire or smoke seals either missing, installed incorrectly or not filling perimeter gaps correctly
Over 1/3 had incorrect signage
More than 34% of fire doors inspected had excessive gaps between the door and its frame (ie. over 3mm)
Over 15% had damage to the door leaf
Almost one in five had unsuitable hinges
Check existing Fire Doors
Use this useful guide to check existing fire doors are up to a satisfactory standard for the safety of the occupants. Download guide.
Fire Door myths
There are myths around Fire Doors – learn the truth here!
Fire Door Safety Week is the brainchild of the British Woodworking Federation, the BWF-CERTIFIRE Fire Door Scheme and the UK's Fire Door Inspection Scheme (FDIS), the initiative aims to raise awareness of the critical role of fire doors, drawing attention to specific issues such as poor installation and maintenance, and encouraging building owners and users to check the operation and condition of their fire doors and to report those that aren't satisfactory.
Denleigh provide certified fire doors and CE marked ironmongery suitable for fire doors. View our products here, or call our door and ironmongery specialists on 01722 337060 or email at mail@denleigh.co.uk
Learn more at www.firedoorsafetyweek.co.uk Spread the word #FireDoorSafetyWeek