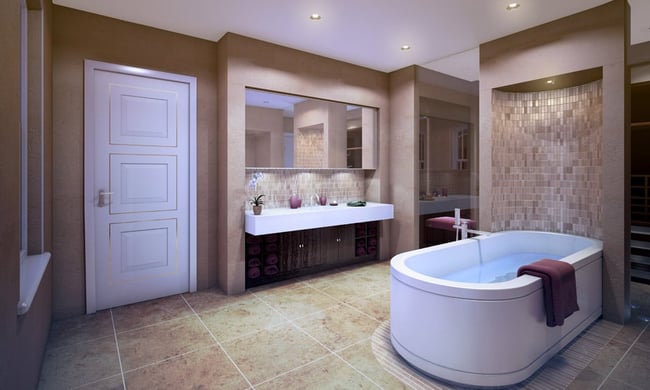 Quality fixtures and fittings throughout the home can make the difference between a run-of-the-mill interior and something more special and high-end, but sometimes the use of cleverly designed products and materials can surprise you in how they create the right impression.
Take the new MOD-500 bespoke door range from Denleigh, a door which gives the first impression of being a traditional raised panel door but is in fact a striking flush door with inset grooves and inlays. Built to a modern construction and suitable for contemporary interiors, the grooves and stunning inlays equally help give the door a traditional and even regal finish.
The design is suitable for any doorway, but for designers wanting to maximise internal space through a pocket sliding door, the flush design of the MOD-500 is the perfect choice. There are no protruding parts that might scrape on the mechanism and the flush surface makes the door easy to clean and sanitise in areas such as bathrooms and kitchens. Incidentally, Denleigh can supply pocket door kits for installation with your chosen doors for a complete solution.
Creative Finishes
MOD-500 doors are supplied in a range of smooth lacquered finishes as shown below or we can match any RAL colour. As well as the classic white, black and dark grey, if you want a really contemporary look there's the option of metallic lacquers such as steel, platinum and a lovely 'rust'. View the choices below or use our door samples service if you would like to see any of the finishes before making a decision.
To complement your chosen finish there's a choice of 5 stunning inlays including gold, silver and bronze which contrast against the door surface giving it a very luxurious and glamorous look.
As a dual supplier of bespoke feature doors and architectural ironmongery, it's of no surprise that Denleigh also make available some delightful door handles and furniture from our Denpremo range to complement the finish of the inlays and ensure a high-end touch.
Model Designs
Denleigh have developed four popular designs for the MOD-500, part of our Denpremo collection, ranging from a single panel to a four panel design, in addition architects and designers have the option to customise the design to meet their specific needs and desires.
Our core models are shown below. Click on the model numbers to explore the designs and options in further detail.
Made to Measure Doors
The MOD-500 is a made to measure door available from the factory in as little as 6-8 weeks and can be supplied in a range of standard or bespoke door sizes up to 2400mm in height. Fire door options are available up to FD60, offering fire resistance to 60 minutes.
Built with a solid core for heavy weight performance and durability, you can be confident that the quality of these doors is more than skin deep, so whilst the doors will make a great first impression and maybe even surprise you, the perception of quality will only grow with everyday use.
Work with us on your next project
Are you ready to work with us on your next project or keen to get some fresh ideas for your interiors? Our team of GAI and carpentry trained advisors work with designers, architects, developers and contractors to tailor solutions around the needs of mid to high-end residential developments.
To find out more about how we can help bring your next project to life, contact our experienced team on 01722 337060 or email doors@denleigh.co.uk