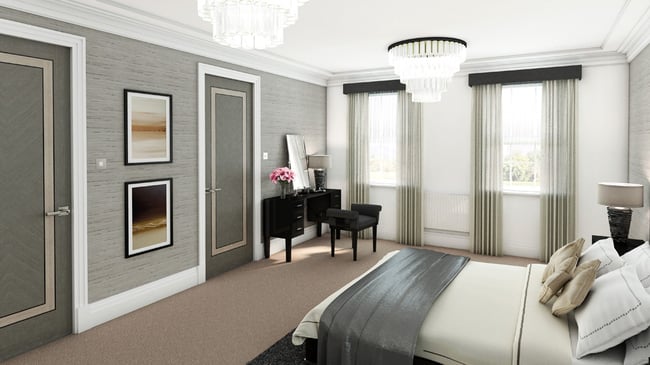 If you're looking to create a stylish high-end look for your property, a great starting point would be to consider your choice of internal doors. Given their size and presence leading the way to rooms throughout a property, the importance of doors on interior design cannot be over-stated. So where should you start?
At Denleigh, we supply a full range of doors for luxury interiors, but if you want to create that chic modern 'designer' appearance, you should certainly take a closer look at the new MOD-440 range of doors from our Denpremo collection.
The bespoke MOD-440 consists of flush pre-finished doors of a singe panel design, framed with a choice of contrasting veneers and metallic inlays. The doors come in a range of reconstituted veneers, with the panel grain direction angled to form a variety of delightful geometric shapes. With contemporary high-end looks these doors are certain to make a great impression!
Denleigh have created four models for the MOD-440 range, allowing interior designers easy access to a number of variations to match their taste. There's also the freedom to develop creative adaptations if you have a idea in mind - simply call our team of door experts on 01722 337060.
Our four core models are shown below. Click on the model numbers to explore the designs and options in further detail.
Veneer and Inlay options

There is a great selection of veneers to chose from; from the warm hues found in Limed Oak and Teak, to the very popular and on-trend Grey Coto, Silk or Recon Ashen. But these doors really come into their own when you choose a contrasting veneer and inlay to set-off against the door. Take a closer look at the veneer and inlays options below:
Refining your Look
What combination would you pick? How about a Grey Coto door offset with an Ashen and polished chrome inlay? Or for warmer tones what about a Wenge door veneer with a contrasting Silk and bronze inlay? With the MOD-440 range you can let your imagination run wild, creating a look that's exactly right for you. The door examples below, demonstrate just how effective the inlays can be.
| | |
| --- | --- |
| Silk Veneer, Ashen and Polished Chrome Inlay | Ashen Veneer, Silk and Gold Inlay |
To protect the door surface a smooth clear lacquer is applied in the factory which also allows the full effect of the grain pattern to shine through.
Door construction
Available in a range of standard and bespoke sizes up to 2400mm high x 1200mm wide, the MOD-440 is built to a solid core with solid timber lippings to all four edges, giving it heavy-weight strength and performance. Where additional fire protection is required, such as the entrance to a kitchen or bedroom, FD30 and FD60 fire door options are available to help mitigate risks.
Ironmongery to suit
An important consideration when you are trying to create a high-end impression is the choice of door handles. As dual suppliers of bespoke doors and architectural ironmongery, Denleigh offer a range of door handles and hardware to complement this door design. Contemporary handles from our Denpremo range with a square rose would particularly suit the rectangular panel design of these doors and are available in a range of finishes, adding a premium touch.
Work with us on your next project
When you're working on a development with tight deadlines you need a supplier that can schedule deliveries to site and keep you informed at all times. Our team of door specialists pride themselves on the highest levels of project management, supporting you from the initial selection and ordering of your doors until they are fully installed. If you would like us to support you on your next project, simply give our team a call on 01722 337060 or email doors@denleigh.co.uk