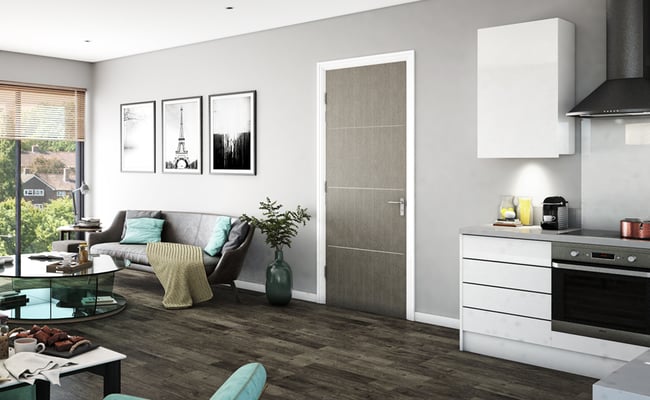 Interior Designers are often frustrated when their creative flair is shackled by the limitations of the supply chain, standard options become the default and the clients brief for exclusive high-end looks can become hard to fully satisfy. When it comes to internal doors, however, Denleigh is breaking down the barriers to design freedom through its truly bespoke Denprémo range.
One of the new models in the range, the modern MOD420 flush inlay door is particularly suitable for contemporary interiors and takes customized design to the next level, combining the textures and hues of different natural woods and stains with the crisp sharpness of metal inlays.
One of the main advantages of the MOD420 is the freedom it gives you to tailor the design to complement any creative interior or indeed to act as a striking design feature itself. With over 70 exquisite veneer and stain options, a choice of up to 5 metal inlays and 11 standard configurations the options are extensive, however, designers can also specify, where practical, any inlay formation allowing you to create something quite unique.
Click the model number to view our standard models - 420, 421, 422 ,423, 424, 425, 426, 427, 428, 429, 430. The inlay concepts below show you examples of other possible designs:

The scope for freedom and individuality is perpetuated through the choice of unique veneer, stain and inlay options, for example, the warm hues of oak and chestnut, the understated class of grey Coto or the striking impact of high gloss are complemented with a range of black, chrome or bronze metal inlays in a choice of finishes.
With these versatile choices designers can draw on all of their creativity to fashion doors to suit their ambitions. What design configuration would best suit your next project? You could choose a dark chestnut veneer with horizontal running antique bronze inlays in the design of MOD422. Too Safe? How about Madera Dark Grey with satin chrome inlays in the form of our MOD425 design. With the Denprémo range you have the freedom to create the perfect look.
Stylish Ironmongery
No door would be complete without its handle, hinges and locks. Denleigh offers an extensive range of quality door ironmongery to complete your design, available in a wide range of styles and with exactly the same finish available across every component. Check out our range today.
Bespoke Door Sizes
MOD420 models are available in a range of standard and made to measure door sizes up to 1200 mm wide by 2400 mm high, allowing the door to fit most apertures. Additionally, they can be specified in 35, 40, 45 or 55 mm thicknesses - Doors of depth are often specified by clients looking to add strength, sound proofing and weight to the door to ensure high-end touch and performance.
When you want to draw in more natural light into interiors, the MOD420 range is also available with a range of glazing options, from a single pane to 5 panels glazed. This allows consistency of design throughout the home and opens up areas creating an aura of freedom and space.
Specifications
Manufactured to the highest standards with a solid core and solid timber lippings on all four edges, this model would enhance any luxury home.
Fire doors are available for higher risk areas, with FD30 available in all sizes and as a solid or glazed door and FD60 (60minute fire protection) available in all solid sizes and some glazed options. There is some limitation on inlay options for fire doors, so speak to us for advice.
Work with us on your next project
Denleigh's team of experienced consultants work with designers, architects, developers and contractors to tailor solutions for residential properties of distinction. To find out more about how we can help bring your next project to life, please contact our experienced team on 01722 337060 or email doors@denleigh.co.uk