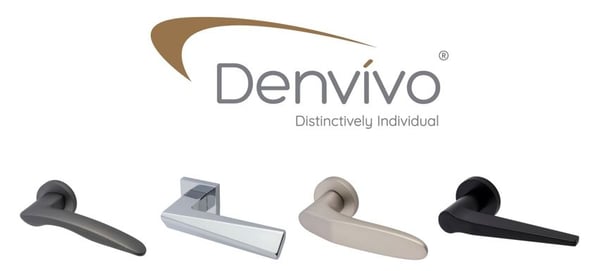 The imaginative finishes in the inspirational new Denvivo range of beautifully crafted door handles and furniture from Denleigh.
The eleven Denvivo door handle finishes
With an unparalleled selection of materials and finishes, the Denvivo handle range has it all, leaving you spoilt for choice.
Whether you opt for Matt Black or Polished Chrome, Satin Black Nickel or Oiled Rubbed Bronze, every Denvivo finish is an expression of exclusivity.
Maybe Matt Satin Nickel will be your perfect finish? Or why not choose Matt Black/Satin Chrome, Matt Satin Nickel/Matt Black, or Polished Chrome/Satin Black Nickel?
The choices keep on coming: other finishes include Polished Chrome/Matt Satin Nickel, Matt Satin Nickel/Wood Inlay and Polished Chrome/Wood Inlay.
An option to suit every property, explore the finishes ...
Care for a lifetime
The Denvivo range is designed for life, given the appropriate TLC.

Chrome, nickel and matt black finishes simply need regular cleaning with a moist chamois leather or soft duster. More stubborn dirt and stains may need a little warm water and mild detergent, followed by a rinse, and wipe with dry towel. Never use abrasive compounds or metal polishes.

Oil Rubbed bronze finish is a living finish that changes over time, the coating will eventually wear down to a copper penny colour. To care for this finish, wipe with a very small amount of natural oil on a soft cloth. Refrain from using detergents and abrasive compounds.

The Denvivo range is designed for internal door use, and has not been engineered for external environments. Stainless steel finishes come into their own with external use.

Locks, latches – and any ironmongery with moving parts need to be checked monthly and lubricated as necessary.
Discover more at www.denleigh.co.uk/denvivo, and discuss your next project with a Denleigh consultant on 01722 337060.
---
If you're ready to specify your project or are looking for a budget cost, please check out our Project Calculator.