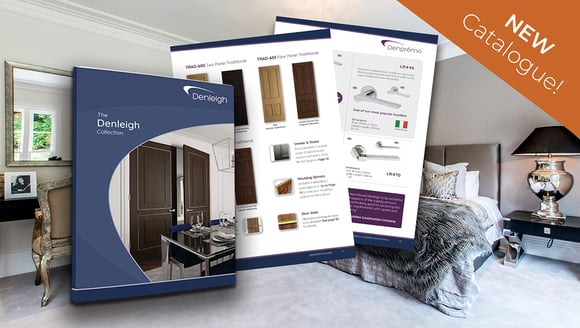 We are delighted to have launched our first full range doors and ironmongery catalogue - The Denleigh Collection, designed to offer an invaluable resource for architects, designers and specifiers that need to choose products that deliver the performance, style and value demanded by their projects.
Single source supply
As dual suppliers of quality bespoke doors and architectural ironmongery for the mid to high-end residential property market, we help leading property developers and designers to source all of their internal doorway requirements from a single source, thereby saving considerable time and money. The Denleigh Collection catalogue reaffirms our commitment to this principle and provides access to an exceptional range of innovative designs exclusive to us.
Developed by our highly experienced door and ironmongery specialists, the catalogue provides access to solutions that meet a wide range of design needs and trends, many of which are new! By listing products in the Denleigh ranges - Denvivo, Denpremo, Dendura, Dentrata and Denkohr, we also allow clients to choose products that match their budget.
Innovative Product Range
From innovative designer doors with an extensive range of veneer, stain and inlay options to PAS24 entrance doorsets, stylish door handles in a range of finishes and matching hardware, the Denleigh Collection catalogue features them all.
To whet your appetite here's a sneak preview of some of the new products featured in the catalogue:
Download your copy
Go ahead and download your copy of the catalogue today and be inspired by a comprehensive range of bespoke doors and ironmongery products, designed to make your life a little easier!