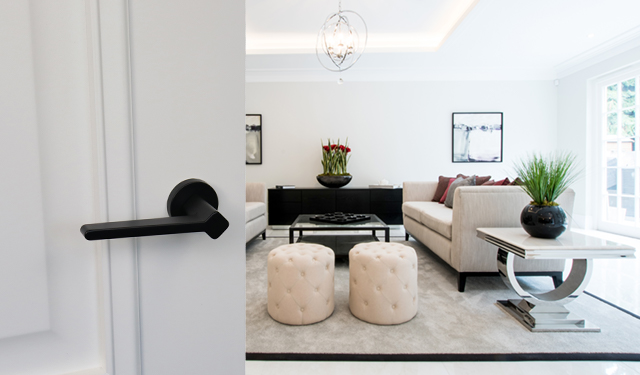 Denleigh is celebrating the launch of four inspirational new internal door handles with exclusive designs suited to quality contemporary designed homes. The new handles will appeal greatly to property developers, architects and designers who want to add a distinctive finishing touch to their properties in 2020 with quality ironmongery which is a little more unique, stylish and characterful than the norm.
Italian style & design inspiration
Denleigh has added two of the handles to its Denprémo ironmongery range. Designed for homes of distinction, the Denpremo range provides inspired style and superior quality, enabling discerning home owners to add an extra classy feel and appearance along with proven reliability to their property.
Inspired by revered Italian fashion and design these models consist of LR445 which has a diamond shaped flat faced sculptured lever on a round rose and LR446 which has a slimline stylised flat faced lever on a round rose. Both models are available in a choice of finishes including polished chrome, satin chrome, matt black and matt bronze, allowing seamless integration with contemporary doors and interior designs. For consistency of appearance matching escutcheons and turn and releases are also available.
Above, LR445 in Matt Bronze (L) and LR446 in Matt Black (R)
Smart, durable Dendura
The further two models have been added to Denleigh's Dendura range, which offers a collection of smart, functional, durable door handles and furniture suited to modern housing.
Although representing value, the style and quality of these handles continues to stand-out. LR235 offers a flat faced design with an angled lever on a round rose and LR236 offers an ergonomic design for high levels of user comfort, with a straight lever on a round rose.
These models are both available in polished chrome or satin chrome finishes, as well as a splendid polished and satin chrome in the LR236, with matching escutcheons and turn and releases.
Above, LR235 in Satin Chrome (L) and LR236 in Polished Chrome & Satin Chrome
Completing the look
For developers and designers, one of the major advantages offered by Denleigh is that all ironmongery including handles, turn and release locks, escutcheons and other door furniture are available in exactly the same finish.
This alleviates the headache of trying to source matching products from numerous different suppliers. As dual architectural ironmongery and bespoke door specialists, Denleigh also offers a stunning range of custom-made doors to complete the desired look.
These beautiful new handles are available with a 10 year mechanical guarantee and feature in an 'Inspirational New 2020 Door Handles' brochure which can be requested or downloaded from the website.
Denleigh's team of experienced consultants work with designers, architects, developers and contractors to tailor solutions for design-led residential properties. Ironmongery is positioned into five distinct ranges to help you choose products that match your project needs and budget.
For further technical information, samples and advice simply call our team on 01722 337060.